ST. PATRICK OF IRELAND
According to the Rev. Lionel Smithett Lewis M.A. Vicar of Glastonbury, St. Patrick' s real name Patrick or Patricius , as late as the ith century, simply meant "gentleman" or "nobleman" His father Calpumius was a deacon and a decurio or magistrate. The same word was used of St. Joseph of Arimathea the honourable counsellor (nobilis) decurio in Maelgwyn 's MS. His grandfather was Potitus a priest. A marginal note in the MS.of William of Malmesbury's De Antiquitate by a later hand states that St. Patrick's mother was "Conches, the sister of St. Martin, Archbishop of Tours, as Martin testifieth in his chronicle "St. Patrick." His Birthplace was Bannaven Tabemaiae (perhaps Bannavemta Berniae or it could be Bonaventa Bemaie.These facts we learn from his own confession , written in a very crude Latin. Revealing Irish Idioms. St. Patrick calls himself "indoctus et rusticissimus."
When he was 16 he was taken prisoner by the followers of Nail of the 9 hostages, an Irish king who plundered the shores of Britain. He (Patrick) became a slave, having to tend cattle for 6 years on the lonely hills. There, like the prodigal Son, he came to himself. In his own words, he was taken to Ireland captive with so many thousand men. "And before this I did not know the true God. The Lord opened to me the sense of my unbelief, that though late I might repent of my sins. God pitied my youth and ignorance and took care of me before I knew Him.
At 15 years of age, Patrick committed a sin which he confessed to an amiable friend who thirty years later used the knowledge without avail to try to prevent him from becoming a Bishop. He was born about 395, AD. and was taken captive about 425 AD. and became a Bishop about 440 AD. or earlier.
The dates are sometimes conflicting, but we find these correspond well with the dates of Mr. William Malmesbury's in the Antiquities of Glastonbury.
Patrick finally returned to Glastonbury and lived a blameless life. When he died he rested on the right side of the Altar in the Old Church for 710 years up to the time the said Church was burnt, when his body was gathered into a pyramid of stones beside the Altar towards the South. 710 years brings us to 1182 AD. nearly the date of the fire in 1184 AD.
Previous to his death St. Patrick organized and developed further the Celtic settlement living in huts near the Chalice, started by St. Fagan and St. Dyfan, in imitation of and succession to St. Joseph's first missionaries. "And Patrick, after having faithfully obeyed orders there in Ireland, came to Britain to end his days. Rejecting his former dignity and salutation in the market place, landed in Cornwall at his own altar, which to this day is regarded by the inhabitants with great veneration, both for its sanctity and usefulness as well as its power to heal the sick. Coming to Glastonbury, and finding these 12 brethren living as hermits, he gathered them together and accepted the office of Abbot, teaching them community life.
Besides tradition and historical statements in writing there is circumstantial evidence that St. Patrick of Ireland ended his days and was buried in Glastonbury.William of Malmesbury saw the Irish constantly visiting his shrine."Hence he said it became a fixed habit with the Irish to visit the place and kiss their patron's relics. The Irish poured over from Wexford via Bristol in the middle ages. There was a settlement of Irish monks there as late as St.Dunstan's day, He (William of Malmesbury) having been taught by them as a boy. We are told St. David of Wales gave the great Sapphire Altar to Glastonbury partly because of the venerable antiquity of the spot and especially because of the relics of St. Patrick and other, Saints treasured there. There is an ancient Chapel of St. Patrick still standing in the old Abbey grounds.
On the whole we may safely say, on the grounds of ancient history that there is more evidence that St. Patrick the apostle died and was buried at Glastonbury in AD. 472, than any other place. But the Irish like to claim the burial place of their beloved Saint, and a Monument was erected In his memory on Tara Hill.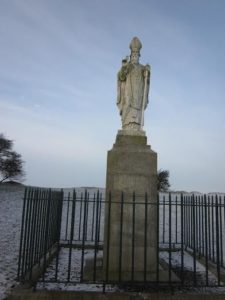 St Patrick 's Monument, Tara Hill, Co Neath